Earth friendly MDF Wood Molding on Pole/Column Decoration for Roman Column design by DIY.
Enhance the beauty of your Roman columns and poles with our ECO MDF  Wood Molding in two halves, specially designed for easy DIY installation. This high-quality MDF wood molding is perfect for Roman column and pole decorating, basement post/pole/column covers, interior column wraps, and wood column wraps.
Crafted from ECO MDF  Wood board, this MDF molding offers exceptional durability and aesthetics. Its unique structure consists of two halves, allowing for effortless re-joining during DIY projects. With the combination of our flexible MDF wood panel board, it provides a seamless and cohesive look when covering poles, posts, columns, or pillars.
Key Features:
Simple DIY Installation: The ECO MDF molding can be easily installed using normal glue, making it a user-friendly choice for DIY enthusiasts.
Perfect Fit for Roman Columns and Poles: Designed to fit Roman Columns and poles perfectly, it ensures a seamless and visually appealing result.
Customizable Finishes: The MDF molding can be stained or painted to match the style of your interior decoration, offering versatility in design.
Experience the beauty and convenience of our MDF Molding, proudly made in Taiwan. For customers in the United States, please contact our authorized agent, POLE-WRAP, INC. We are actively seeking agents and distributors worldwide (excluding the United States).
Usage: Roman column and pole covering, wood wrap, interior column wraps, basement post/pole/column covers
Code No. 294-05
Material: MDF board
Structure: Cap set and Base set
Shape: Octagon in two halves (also can be in square)
Height: 3/4 inch
Size: Cap set…diameter 6 inch & 7 inch, with hole 3-1/2 inch or 4 inch or 4-1/2 inch
and inside 1/2 inch radius cut
Base set…diameter 7 inch & 8 inch, with hole 3-1/2 inch or 4 inch or 4-1/2 inch
and outside 1/2 inch radius cut
Character:
1- It is easy installation with ordinary glue by DIY.
2- It can completely fit the Roman Column or pole.
3- It can be stained or painted for to match the interior decoration.
The product is Made in Taiwan.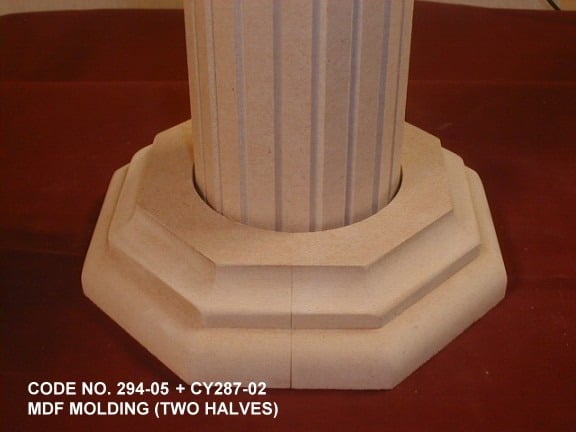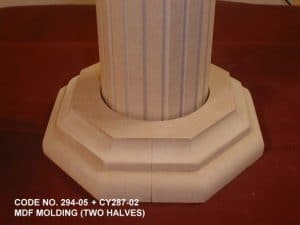 (Customers in the United States please directly contact our agent–POLE-WRAP, INC. )
***Looking for agents and distributors (excluding the United States and Japan)***